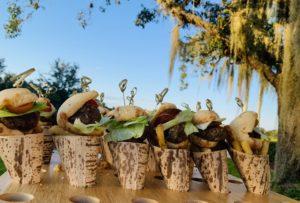 Whether you're hosting an intimate gathering in your home or a regal celebration with friends and family, Table Top combines fresh and delicious cuisine, and impeccable service to ensure a perfect event every time.
All too often, as the host of the party, you are too busy to enjoy your own event. You deserve to take pleasure in the event you are hosting. By choosing Table Top Catering, you'll do just that.
Relax and mingle while we delight you and your guests with innovative and unique displays, customized to be a perfect fit for your event's needs.
The only thing you have to do is speak with one of our event coordinators — we'll take care of the rest!
We specialize in one-of-a-kind, exciting action stations — a sure way to bring vibrancy and entertainment to your party. If you want to create movement, variety, and a seriously social atmosphere, allow our action stations to take the place of dinner all together.
Choose from dozens of chef-attended stations, including:
Homemade Ravioli
Risotto Bar
Slider Station
Caesar Salad Station
Gourmet Mashed Potato Bar
Bourbon Braised Short Rib Station
Porchetta Carving Station
Spanish Paella Station
Lobster Mac and Cheese Station
Flatbread Station
The possibilities are endless!